Barbara King is a professional chef who has been with Culinary Staffing since 2016. A graduate of the prestigious Le Cordon Bleu in Los Angeles, Barbara says she has always been a self-described foodie, and worked in the hospitality industry for many years before deciding to go to culinary school. She loves working for our agency because she gets to work in kitchens of all sizes throughout the city, and says she especially loves working garde manger and prep cook positions. 
For Culinary Staffing's featured April recipe, Barbara shares with us this crowd-pleasing appetizer of mushrooms and goat cheese crostini. It's simple to make but combines flavors that taste like you spent hours in the kitchen. Enjoy! 
Ingredients:
Mushrooms, Crimini, Shitake or button mushrooms, sliced
Goat cheese
baguette for crostini
Truffle oil (optional)
Micro basil 
dried basil 
dried garlic 
dried thyme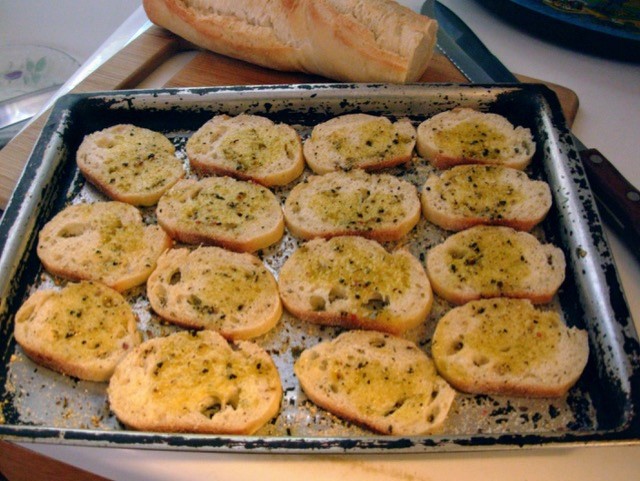 To Prepare:
Slice baguette into thin to medium size slices, sprinkle with salt and pepper, garlic powder and some of the dried basil (optional).  Drizzle with olive oil.
Place on sheet pan and bake at 350 degrees for approximately 10 minutes, or until golden brown.
Meanwhile, set out the goat cheese at room temp to allow the cheese to become softer.  Dried herbs and seasonings can also be added to the cheese if you prefer. 
Saute the mushrooms in olive oil and a little butter, salt and pepper, garlic powder and thyme.  Allow to cool. 
Smooth a dollop of goat cheese onto crostini, then spoon a small amount of mushrooms on top of the cheese. Top with a spritz of Truffle oil and a stem of micro basil. 

Serve and Enjoy!😄🌱