There's an old proverb that goes, "If you have much, give of your wealth; if you have little, give of your heart."
Rarely do we find opportunities to give of our heart, and be paid for that giving spirit. That's why we're so grateful to be able to partner with PATH, where our cooks have the opportunity to feed others while feeding their souls. 
PATH is a nonprofit that serves the entire state of California, with a large Los Angeles chapter that helps find permanent housing for the homeless population, and also connects them to crucial medical services, mental healthcare, and even employment training. And of course, they feed them! 
The organization hires cooks - several of whom are provided by Culinary Staffing Service, and they are also always on the lookout for generous volunteers and donors.
Right now they are looking for paid staff AND volunteers for the Thanksgiving holiday season, so if you feel moved to help, you can read more and sign up HERE.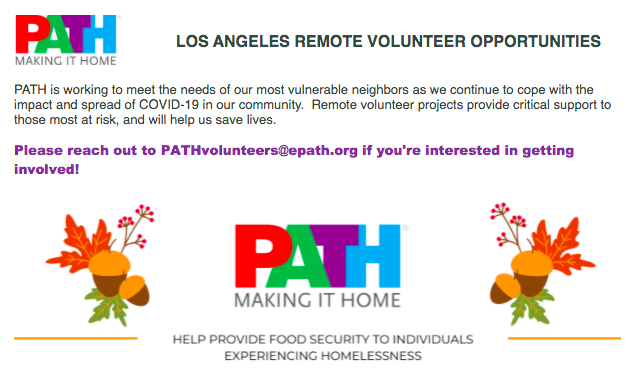 And if you're one of our employees or a hopeful candidate, don't hesitate to let us know you're interested in working at PATH. They need cooks, prep cooks, and other kitchen crew.
New here? Send us your resume!