The heatwave is slowly leaving Southern California, and in its place are cool mornings and evenings and those perfect 75 degree afternoons. Many of us are getting our jackets, thicker socks, and blankets out of the closet, and Halloween decorations have filled front yards and porches. But best of all? Soup season has officially arrived and this year we are going on a little taste adventure! 
First, a word about soup. Not everyone likes it. Some love it. Some associate it with being sick, while others find it filling and comforting; a perfect fall and winter meal. But one thing is for sure - soup is warming, and there are hundreds if not thousands of recipes and ways to enjoy it. 
Here in SoCal, we are very lucky. We have an abundance of ethnic diversity, and with that comes a variety of world cuisines and flavors to choose from, including soups and stews. Los Angeles has so many delicious Mexican and Asian restaurants in particular that it makes pozole and ramen easy to find, and sometimes hard to decide which you're in the mood for! My personal fall favorite is a giant bowl of ramen made with spicy red  Tom Yum broth with fresh ginger and garlic and crispy fried onions on top. And because I care about supporting local restaurants, I go back and forth between the restaurants closest to my home. 
Whether you love Japanese Ramen, Mediterranean lentil, Mexican pozole, or a hearty, American classic like chicken stew or Texas chili, Los Angeles is a mecca of flavor, and there's never been a better time to order take-out (directly, no need to pay a middleman app service). 
That being said, cooking soups and stews at home is also very satisfying and less expensive, so if you have some time on your hands, scratch-made stock is the ultimate immunity-booster. But you don't have to start with a blank slate - or pot, rather. If you're short on time, but still want delicious and healthy homemade soup, here's a little shortcut.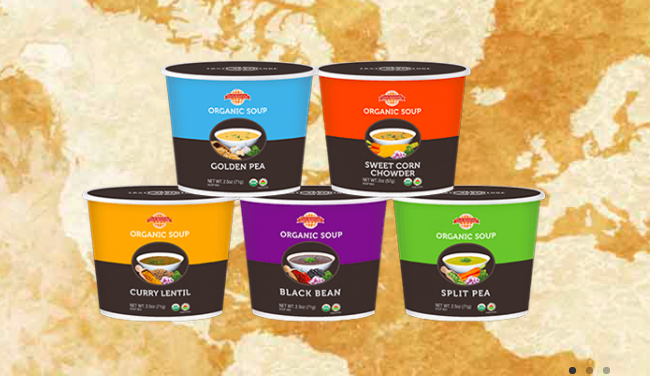 Our newest client, Taste Adventure, is a purveyor of organic soups and beans with spices and ingredients that are all kosher, vegan, gluten-free and non-GMO. Their soup cups will make your lunches quick, easy, and healthy (just add water - that easy) and their products are so versatile that they can be used as staples in weeknight dinner recipes, too. 
For lunch, I'm a big fan of the organic curry lentil soup cups because I love the flavor, the convenience, and the fact that they're low-calorie and made with whole, simple ingredients: lentils, sea salt and spices. That's it! 
Yes, okay, I'm a tad biased because they are a client. But if you work in an office OR a home office, you're going to appreciate these little cups of waist-trimming, savory soups, especially if you want a low-cost meal on the go. But what I really love about Taste Adventure is that they taught me how versatile beans can be! Use their instant pinto beans mixed with salsa, green onions, and fresh cilantro to make a zesty bean dip, or add them to THIS RECIPE for healthy, bean-filled chocolate cookies that won't leave you feeling guilty.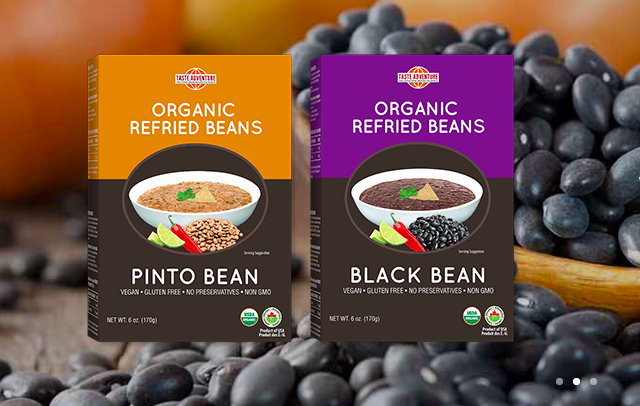 The recipe I love most, though, is Taste Adventure Tortilla Soup - a classic that just never gets old. Below is the easiest recipe I've ever made, and you can do it, too! Let's go on a little taste adventure to the coziest fall destination ever: our kitchens. 

TORTILLA SOUP
3 cups water
3/4 cup enchilada sauce
1/2 cup frozen corn
2 corn tortillas cut into 1/2″ squares
1 1/2 cups TASTE ADVENTURE INSTANT PINTO BEANS
tortilla chips
grated cheese
In a sauce pan combine water, enchilada sauce, and corn. Bring to a boil and cook until corn is tender. Stir in INSTANT PINTO BEANS and tortillas and remove from heat. Cover 5 minutes and serve topped with broken tortilla chips and grated cheese. Makes 4 servings.