There is barbecue, there is Texas barbecue, and then there's Wise Barbecue - the Texas style barbecue that has gifted us with a real Texas treat. And once you taste it, you'll understand why so many Angelenos love it so much.
Now don't me wrong, I love all varieties of barbecue. Having grown up on the east coast, I have a strong fondness for North Carolina's vinegar-based pork barbecue, best eaten with hush puppies. And I must also confess to savoring the thicker, sweeter sauce that accompanies Georgia's barbecue ribs. What can I say? I'm an equal opportunist when it comes to smoked and grilled meats. I'm an American, after all, and we love our cook-outs!
Recently, Texas style barbecue has won my heart, and I have Wise Barbecue to thank for that. Widely known as the gourmet food truck that brought traditional Texas smokehouse meat to Los Angeles, Wise Barbecue has become a household name at movie studios, offices and backyard celebrations alike. Companies turn to them for their catering needs because the food is a crowd pleaser (obviously!) and at a fair price, and they can serve groups of 40 or hundreds.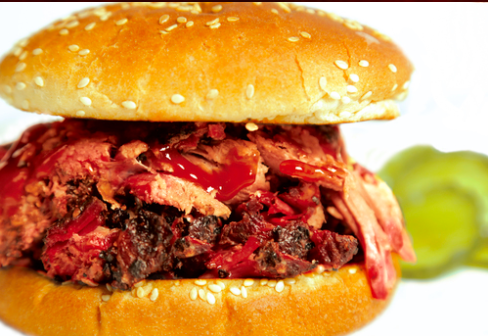 Besides events big and small, Wise Barbecue can be found by visiting their traveling food truck, and don't worry if the truck is a bit far away today, because it will probably be close to you tomorrow. The truck has been spotted all over greater LA, and you'd be "wise" to follow them on Instagram for all the food porn.
I recommend the pepper-crusted, 15-hour smoked beef brisket and the succulently tender spare ribs, but it's hard to choose between those and the pulled pork. Oh and yes, YES of course they make real southern cornbread. Did you think this was amateur hour? These chefs know what they're doing and they do it very well. So well I might need to go up one pant size, but that's a story for another time.

Hungry yet? Find them online right HERE and sink your teeth in!